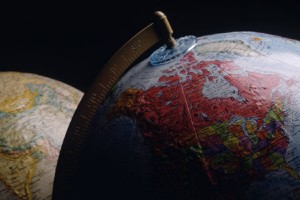 Since the earliest days of Letchworth Baptist Church there has been a strong connection with mission of all kinds and in particular with China. One of our founders was Arthur Polhill who had served in China with C T Studd as one of the "Cambridge seven". Stephen Knights went out to China in 1937 with the China Inland Mission.
It has been a joy over the years to see many of our folk enter God's service overseas as well as entering the ministry in the UK.
The church has always had a global perspective and vision supporting specific individuals in their specific, called ministries. As you read about our history you will read of just a few of the people who have gone out from our church to places such as: China, Indonesia, Canada, Iran, North Africa, Kazakhstan, Austria, Australia, Pakistan, Israel, The Gulf, Lebanon, Albania, Romania and of course the UK.
In the UK we support our pastor David Chan whose ministry amongst the Chinese extends from Ilford to Hemel Hempstead and from the M25 to Northampton. David's ministry also includes being a Chaplin at one of the immigration detention centres.
Our Missionaries
William Niven
Will grew up in the church and as a student at Stirling University was introduced to Albania. He felt a strong call from God to work in their and he Joined European Christian Mission's church planting and development work. As ECM's ministry focus changed Will, with the help of  members from Letchworth Baptist Church and Christ Church Baldock, established the Illirian Gospel Trust.
Will is pastor of two churches in Albania at Patos and Fier where he lives with his wife Doreta and their three children. His goal is to develop the local Christians to the point of doing himself out of a job. In his ministry there, and through a Bible School and other schemes, he is seeing the encouragement of believers growing in Christ.
David Barnard
David. now semi-retired, was called to work with Compass Braille in a quite remarkable and unexpected way. He was a software engineer with British Aerospace but had developed an interest in Hindi and Braille. Having been made redundant from British Aerospace he was seeking God for guidance as to what he should do. Whilst attending a church away-weekend at the High Leigh Conference Centre he met a team from Compass Braille who were there for another event.
Compass Braille develops and publishes Braille Bibles and Christian literature in other languages, especially for Asian and Far Eastern peoples. They were seeking God for someone to lead the production work; exactly the role for which God had been equipping David.
David has since enabled the software transcription of the Bible in many languages into Braille and provides consultancy to local organisations that support Blind Christians and which are looking to provide Bibles and other Christian texts.
Robert Weissman
Robert, born of a Jewish family came to Christ whilst at Reading University.  He joined the Messianic Testimony in 1975 after receiving a call to missionary service, he later joined CJF Ministries. Robert is married to Rosamund and they have three grown-up children, Joseph, Samuel and Jonathan.
His mission includes door to door work work in North London visiting Jewish homes in the areas of Redbridge and Golders Green.
Lois Morriss
Lois Morriss, who for many years worked as a missionary in North Africa went to be with the Lord on January 25th 2011.
Lois was born in Nabeul, Tunisia on 10th June 1932. Her parents were missionaries there. She trained as a Nursery Nurse at St. Christopher's College in Tunbridge Wells.  In 1962 she ran the Nurses' home attached to the Tulloch Memorial Hospital in Tangier, Morocco. When the Moroccan government took over the running of the hospital she was allowed to stay on in Morocco. Whilst she was not an official 'missionary' she was able to continue to witness to the local people and fellowship with the Moroccan believers.
In 1997 she 'retired' and settled in Leicester where she continued to witness to people of many nationalities and cultures. Lois continued to visit Tangier from time to time and took a great interest in the growth of the church there.