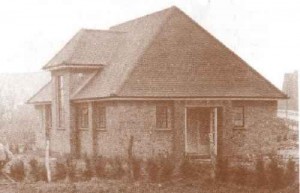 The history of Letchworth Baptist Church goes back to the late 1920s when a small number of Christians with a heart for Bible-based Christianity began to meet together in the Spirella building, in the office of Edward Thompson Morriss, founder of the Marmet pram company. In 1930 they approached the Elim church (now Letchworth Garden City Church) for use of their hall in Spring Road, Letchworth, which they then rented for the next four and a half years.
On Wednesday 27th November 1935 a church building was opened on the corner of West View and Broadwater Avenue. The special meeting was chaired by E T Morriss, and guests included the medical missionary Dr T I Stockley and Rev E J Poole-Connor. founder of the Fellowship of Independent Evangelical Churches (FIEC). Two years later the church called its first Pastor, John B Tupman ('Tuppy') who ministered for ten years. During this time the church affiliated to the FIEC and adopted a Basis of Faith proposed by E J Poole-Connor.
The work grew steadily in the decades after WW II, under the ministries of Rev John Savage (1948-1950), Rev Eric Williams (1951-1957), Rev William Smart (1957-1970), Rev Leonard Evans (1971-1978) and Rev Graham Butler (1981-1986). The present minister, Dr Derek Moore-Crispin was inducted in 1988 by Dr John Bendor-Samuel and Dr Angus Kinnear, who many years before had been in a Crusader class led by 'Tuppy'
During the 1950s the church started a work on the Grange Estate in Letchworth Garden City, and a building was opened there in 1963. In 1972 Rev (now Dr) Tom Holland was appointed as assistant pastor to Rev Leonard Evans, with particular responsibility for new Grange Baptist Church. Grange became independent of West View in 1979.
Chinese Connections
The church has always maintained a keen interest in China. Amongst those who attended the fellowship before the building was opened was – Arthur Polhill. He was one of the Cambridge Seven, who went out to China with C T Studd. James Fraser, missionary to the Lisu (China Inland Mission), whose mother lived in Willian Way, Letchworth Garden City, preached here at least once. One of the founder members of the church was Rev Stephen Knights, who went out to China with the China Inland Mission (now Overseas Missionary Fellowship) in 1937. Stephen and his wife Edith had to leave China in 1951 after the communists came to power.
They eventually settled in Canada, where Stephen became founder and director of Ambassadors for Christ, a mission aimed at bringing the gospel to Chinese students. Stephen and Edith are now with the Lord.
In 2003 the Lord brought Rev David Chan and his wife Karen to the church to start a work amongst Chinese families in Letchworth Garden City and the surrounding area. There is now a flourishing Chinese meeting on Sunday afternoons and a number of joint Chinese-English meetings through the year. Derek and David are now co-pastors of the whole church.
There is a remarkable story related to both David Chan and Stephen Knights, not known until sometime after David became co-pastor with Derek. His pastor in Edmonton Alberta. The Rev Dr John Tse had entered the ministry in response to a direct challenge from Stephen Knights. Also family members had come to Christ through Stephen's ministry and one was a senior member of the Ambassadors for Christ team. In August 2007 we were privileged to have John Tse amongst us at Letchworth Baptist Church, he had been speaking at a Christian Chinese Conference in Germany and was staying with David and Karen Chan. He shared something of his journey and the work in which he was engaged. He left us a written version of his testimony "The Work Of God And His Servants Lasts!" It is both humbling and encouraging to see the ripples that spread from Letchworth Baptist Church not just around the world but also across the years.
Children's Ministry
Down the years Letchworth Baptist Church has exercised a significant ministry amongst children, through Sunday School and (until recently) Covenanters. Particular mention should be made of over 35 consecutive years of 'Adventure'. Back in 1948 John Savage had run a summer children's mission on Norton Common. But the idea of a 'beach mission in town' really took off in 1973, when Tom Holland suggested holding a week-long holiday Bible club on the Common. He predicted – correctly – that 'hundreds of children' would come, and Rev Ray Geale was invited to give the talks. 'Adventure' was repeated the following year and became an annual event. 'Adventure Plus' was added for early teens – its name subsequently changed to 'Breakout'.
Success is never enough in itself, and in 2000 the Lord stirred up particular prayer, focusing on the question, "How far does the Holy Spirit control Adventure?" Over sixty children expressed their desire to follow the Lord that year, and a Thursday children's church, called Hiz Kids was established as a result. In 2006 'Adventure' was given a new name: 'Hiz Kidz On Holiday' which became part of the broader Transform ministry in 2009
Sending Out
Over the years the church has had a firm missionary focus, sending and supporting a number of people who have ministered around the globe. It presently supports the work of David Barnard (Compass Braille, UK), William and Doreta Niven (Illyrian Gospel Trust, Albania) and Robert and Rosamund Weissman (Christian Jew Foundation, London). Rev Neil Blake (Blackmore, Essex), John Geaney (Rome, Atlanta) and Rev Peter Morden (Spurgeon's Bible College) are former members of the church and are serving the Lord in full-time church ministry.